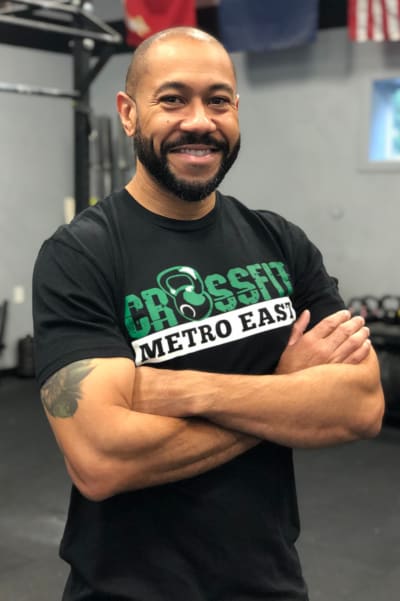 Craig Mayfield
Craig is a part-time assistant coach at CFME. His crossfit journey began in December of 2013 as a way to incorporate some cardio to his weightlifting routine. The intention was to attend crossfit two or three days per week between bench presses and bicep curls. Little did anyone know that he'd soon "drink the Kool-aid" and completely dive into being a full-blown crossfit junkie.
As a former college football player and track & field athlete, Craig brings an attitude of physically and mentally competing every day and trusting the daily process of becoming a better athlete. Crossfit has been the absolute best way to compete with himself and others, while replicating the togetherness and atmosphere of being a part of a team. From flag football on weekends to Spartan Races, fitness and an active lifestyle have remained a high priority in Craig's life since college.
Craig's favorite part about being a coach is helping others improve their quality of life through fitness and nutrition. Helping and seeing others achieve elusive goals is a key motivator for him, and led to the motivation to transition to coaching. The broad and scalable fitness that crossfit provides its participants makes every day a fun and new way to evolve as an athlete and coach.
Professionally, Craig is a coach of sorts. He covers a 13-state territory with nine account managers as a part of his team. Traveling within his territory has resulted in drop-ins at more than 30 other boxes and exposure to many different flavors of crossfit. However, he's always most-happy to get back to CFME for some home-cooked crossfit!
When he's not working or working out (when is that?), Craig enjoys spending time with his teenage daughter and supporting her budding athletic interests. Thankful for a tight-knit circle of loved ones, he does his best to devote time to fellowship with family and friends.
Credentials:
CrossFit Level-1