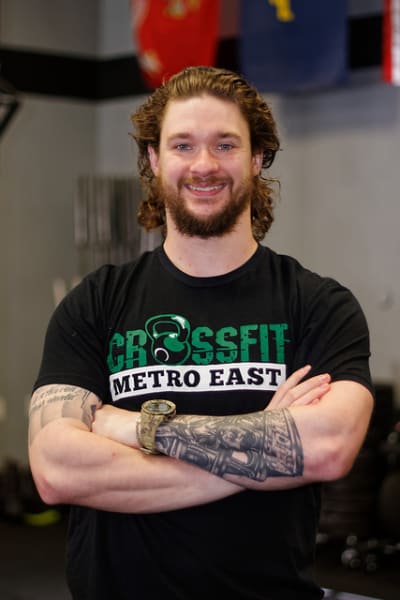 Sam Schaefer
Sam has been a coach at Crossfit Metroeast since August 2015. He got into the sport at Crossfit Valley Park in February of 2010 to prepare for his selection course in the Air Force. Prior to that, he played all sports growing up and focused on soccer in high school. Since 2010, he has been involved in Crossfit to some degree. An injury led to his discharge from the military in late 2012. The prognosis was not good as far as ever being an athlete again. He leaned on the Crossfit community when he returned and has far exceeded being told he would likely be using a cane by age 25.
He got his Level 1 Certification in early 2013. Since then he has been heavily invested in the Crossfit community as an athlete and coach.
After his injury, he was a coach for people in the Combat Control training pipeline. He helped program everyone's workouts and provided individual coaching for trainees not currently in a school. Before coming to Crossfit Metroeast, Sam coached at Arch City Crossfit. The opportunity to introduce people, at all skill levels to Crossfit, couldn't be more rewarding. It makes him incredibly passionate about this place and his role as a coach.
Credentials:
CrossFit Level 2 Trainer
RPR Level 1 Coach